Mojo Magazine Album Review

PUSSY GALORE

Troubadours rarely came more sumptuous

By Patrick Humphries

Courtesy of George Brown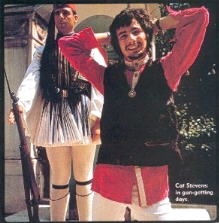 Cat Stevens in gun-getting days.
CAT STEVENS:
Remember: The Ultimate Collection
Comprehensive best of, drawing from over a decade of material from Deram and Island.
Complete with all the hits, and bolstered by key album tracks, rare soundtrack stuff and thorough sleevenotes, the Ultimate Collection is a vast improvement on the 1990's The Very Best Of. It comes not a moment too soon. Since Stevens was an immensely important force commercially, the songs he wrote while at Island in the early '70's' dwarfed those of his labelmates, Nick Drake, Richard Thompson and John Martyn. He was in a league of his own, his songs deeply felt ballads__ Moonshadow, Morning has Broken, Lady D'Arbanville, Peace Train and Father and Son striking a profound chord with a huge audience.
1970's Mona Bone Jakon gave Stevens credibility as a songwriter yet his earlier incarnation as a pop star pin up had already provided a handful of instant orchestrated late '60's' classics.____The First Cut Is The Deepest, Wild World, I Love My Dog, Matthew and Son, and Here Comes My Baby are all included here, though the stellar I'm Gonna Get Me A Gun is conspicuously absent ( Stevens later disowned it's theme, you'll find it on Derams, First Cut. ) Stevens songs were melodic, his image serious and caring and with statements like "I'm just a mirror and you see yourself in me, " he ensured his reputation as the bedsit bard.
His success lasted throughout the 1970's. If James Taylor and Carol King were the monarchs among singer –songwriters, Stevens was the young pretender – but UK sales began to dwindle. Then after a near death experience while on tour in America he was lost to the world, and in 1977 the sorretire controversy figure Yusuf Islam was unveiled.
In interview with John Tobler, the artist formally known as Cat Stevens reveals that Mona Bone Jakon was originally called The Dustbin Cried The Day The Dust man Died______ which may explain the enigmatic painting of a dustbin on the album's dreadful cover. Fans should console themselves with some of the more intriguing selections here: an excerpt from The Foreigner Suite, Don't Be Shy and If You Want To Sing Out, Sing Out, __composed the cult 1971 film Harold and Maude.