Rave Magazine

February 1967 - Page 9

Courtesy of Linda Crafar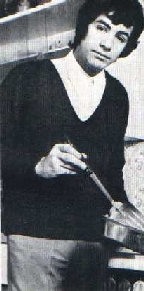 The Family Cat
By Maureen O'Grady
Cat - Cooking for dad!
Cat Stevens is very much a family man. Success hasn't sent him searching for anything more than pleasing his parents and making his mum happy. A strange pop happening, you may say, as RAVE's Maureen O'Grady found out when she interviewed the family Cat!
His Swedish mother wanted him to be a famous artist like her uncle. His Egyptian-cum-Greek father wanted him to work in his restaurant business. But instead, Steve Adams became Cat Stevens, and now every-ones happy!
Cat's interest in music started about two years ago.
"I was very interested in folk music," he said. "It was different then to have a guitar and play in a pub. I found it all very interesting, but I didn't really fit in with folk. I was too commercial, and that was when I went on to the pop stuff. I was at school at the time, and then went on to art school. I was going to become a cartoon artist. I had heard this could bring in steady money. But really I was stuck on music. This made my mother very sad of course. In fact, at this stage no-one in my family had any faith in me at all! But I've always found that I fight better when I'm in a corner, and the lack of faith only drove me on. "
Cat is seventeen now, with shiny black hair, and dark, smiling eyes. Obviously his family ties are strong, and Cat considers his first big break was when his father bought him a £50 guitar.
"My dad loves seeing me on television, and goes around telling all his friends. I love television myself, I think it's the greatest medium for any entertainer."
Beginner's Luck
"When I was at art school, I would come home in the evenings and help out in my father's restaurant. It's a restaurant with a snack bar upstairs, in New Oxford Street, London, called the Moulin Rouge. I used to love doing the cooking, except when people asked for Shish Kebab. I hated doing those, they were all fiddley bits of meat that had to be chopped up and put on a skewer. I loved the people who asked for lovely simple hamburgers! This was my first taste of real work."
Cat believes that most people thought "I Love My Dog" was just beginner's luck, and that "Matthew and Son" was another fluke, but Cat intends to become a big name in '67.
He studies the pop Charts, because he thinks it would be silly to ignore them. He forecasts big bands and solo singers to be on the way in, and only groups with exceptional characters to survive or break through.
"My success all happened when I played Mike Hurst (ex-Springfield member) some of the songs I'd written. He immediately wanted to record 'Dog' and that was it. I've written about fifty songs now, and they'll be on an LP soon, which will be very exciting. A sound is nothing without a good song, and you can get fairly good songs anywhere and add sound to them, but it's not the same. I wrote a song yesterday. I found a few nice chords on the piano and it was an immediate tune. I always used to write with a guitar before, but I get more new ideas from the piano, which I can't play properly. I'll try a violin next."
Among the people interested in recording Cat's songs are Paul and Barry Ryan, Lulu, Peter and Gordon, and Manfred.
Which is more important to Cat, singing or writing?
"Well, I just think about me. Whatever is in my best interests, that's the important thing."
All the family are now proud of their Cat. They didn't think he could do it, but he has. Cat still lives at home with his family and doesn't intend to move. For a pop star to get one hit record and go out completely on his own, he thinks is unwise. On the strength of only one record it would be easy to start living beyond one's means, and then get rapidly into debt.
Since turning into a professional pop singer, Cat has made television appearances and done ballroom dates, but he's never too far away from home. A recent big break for him was the "Fame in '67" show at the Saville Theatre, London. It was a great experience for Cat to appear there, using Georgie Fame's backing group, and even before the hard-to-please London audiences he went down very well, and was warmly received.
After "Dog" became a hit, Cat's father relented and got him a dog, something Cat's always wanted to have. The dog's name is Peppi, and Cat says: "It's funny, but since I've had that dog, everything in that song is coming true for me. I want to be very big in '67 — not get a No. 1, because that would frighten me. I don't want to jump before I can walk. That's why I live at home. I want to keep my two feet on the ground and not get any big ideas that might not work out."
Snippets-Rave-February 1967
Pop stars drawn by Cat Stevens. Who are they? Page 45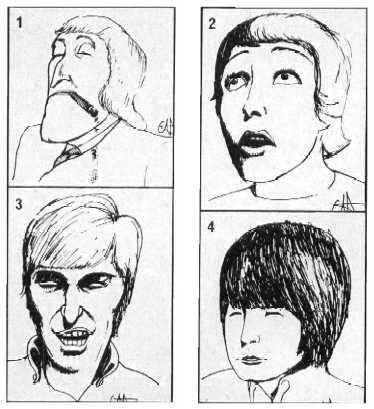 Talented Cat Stevens, who sings, plays guitar and writes his own songs, has one more ace up his sleeve. Remember that he went to art school? Well, above are four of his lightning impressions of well-known pop personalities for you to identify. They're such clever likenesses that it shouldn't be too hard, so there are no clues! Answers are at the bottom of the page.
Letters Page 59
Where can I contact Cat Stevens?
M Campbell, Hornchurch, Essex
You can write to Cat c/o (This is from 1967 so do not try writing to Cat/Yusuf at this address)

Smash Productions Ltd

26 Kingly St

London W1
Answers
1. Jimmy Saville, 2. Mike D'Arbo, 3. Georgie Fame, 4. Brian Wilson