Disc & Music Echo

Saturday 18th February 1967

Courtesy of Linda Crafar
CAT: 1967's Brightest Hope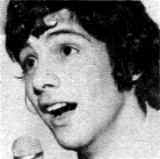 When Cat Stevens heard he had won the Brightest Hope section for our poll he jumped into the air, gave a few mad whoops of joy — and rushed off to write a song in a positive swirl of happiness. Well he's like that, see. The song, inspired by this fantastic win, will be featured on his new LP.
It is understandable that Cat was so knocked out. The poll was conducted at a time when his first record "I Love My Dog" had crept into the bottom rungs of the chart and when his name was just beginning to be taken notice of.
It says much for the foresight of Disc and Music Echo readers that they voted him so highly — BEFORE the release of his huge hit "Matthew and Son."
"It was an astonishing surprise because of this, I was really very little known at the time of the voting and it's a wonderful confidence booster to realise that people thought so much of me," said 19-year-old Soho-born Cat. And I promise I won't let the fans down. I will write and write better and better songs. I know how much I owe to the fans — especially now (you know I really thought the Cream would win that section). Anyway, when I was a fan of the Beatles, I know if I'd written I would have been hurt not to get a reply. And when I can't answer my fan letters because I just don't have time I get in a real state. I only hope they understand that sometimes it's impossible to answer everyone's letters"
A large part of Cat's great popularity quite naturally stems from the fact that he writes all his own songs so his reflection comes through the music.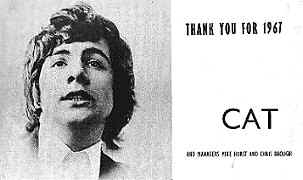 "One day I expect I'll give up singing and just concentrate on writing songs. But certainly not yet, I love singing too much. And I still get enough time to write — in fact I often write better under pressure and when I only have a little time. Isn't it marvellous," Cat said wondrously, "that all those people like you? It's like coming top in a Gallup Poll to see who's Prime Minister or something."
AND AWAY HE BREEZED TO FINISH ANOTHER SONG —THIS TIME INSPIRED FROM THE SIGHT AND SMELL OF LOBSTERS IN PARIS!
~~~~~~~~~~~~~~~~~~~~~
Snippets-Disc & Music Echo- Saturday 18th February 1967
Scene Page 2
Cat Stevens has devious devices for avoiding telephone calls — he gets them answered in his parents' restaurant.
Top 50 Chart Page 3
1 7 This Is My Song - Pet Clark- Pye
6 3 Matthew & Son - Cat Stevens - Deram
7 15 Here Comes My Baby - Tremeloes - CBS
Stars In The News Page 4
Valentine Pop Poll Panorama
….Cat Stevens draped enormous dark glasses over his eyes….John Gilbert, as associate producer was next up to receive the Top Film accolade for "Alfie". And after "Alfie" it was Cat Stevens bobbing forward, bowing and rising as the Top Hope of 1967. Not bad starcasting on the part of your readers, this result.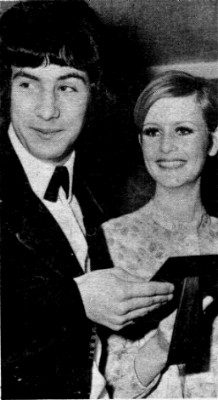 Countdown Page 4
Tuesday 21st February
Cat Stevens Marquee London
Wednesday 22nd February
Cat Stevens Kingsway Theartre Hadley
Disc & Music Echo '67 Valentine's Day Awards Page 12
Cat Stevens looks suitably bemused as he receives his award for "Most Promising Newcomer" from model Twiggy
Cat Stevens is Top Hope for 1967
Cat Stevens
Paul Jones
Easybeats
Penny Spins The Singles Page 23
Ryan Twins: Keep It Out Of Sight — Decca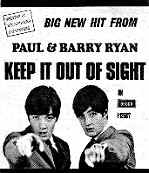 Now here's a turn-up for the book! The madness has struck. This record is utter bewilderment to me. It sounds as though it was recorded at ten different sessions and then put together. Baffled I am. Then I notice the names of the talented Mr. Cat Stevens, who wrote it, and Messrs. Mike Hurst and Alan Tew, who put it together. Clarity. I now understand why the boys sound as though their voices are stretching and why they sound much deeper, why there are castanets, why violins hover, brass comes in and disappears and everything breaks up in a turmoil including my brain.
This is the best record Paul and Barry have made.

Out Tomorrow.
Pop Post Page 21
As a mum, I am fed up with being allotted Ken Dodd, Val Doonican and their ilk! The only Ken Dodd fan in this house is my daughter, aged three, and she thinks he's called "Canned Dog!" Dad likes Val Doonican, but mum, that's me, digs Tamla, Dylan and Cat Stevens; thinks the Stones' latest is the greatest, and would walk barefoot in the snow for Scott Engel! Stop making "mum" a dirty word!
MRS. JANET ROBERTS, 1 Elton Drive, Hazel Grove, Cheshire.
~~~~~~~~~~~~~~~~~~~~~
Tremeloes deserve an award for durability after two long years in written-off land. How many other big names have overcome the stigma of being associated with past hits to re-storm the chart? With Cat Stevens producing songs for them, they should become the most successful partnership since "Matthew & Son."
PAUL SHAW, 14 Glendale Close, Buffershaw, Bradford 6.