Qizlo's Yusuf Islam California Lecture Photographs

These photographs are courtesy of Cat Stevens fan, Mike Valenzuela (Qizlo). He attended the Yusuf Islam lecture in the UCLA on May 23,2000 along with other Cat Stevens/Yusuf Islam fans.
---
"I hope you enjoy the photos. It's amazing how youthful Yusuf looks for his years. Yusuf is certainly an inspiration. I think it's great that he's come to terms with his past. :0)"
Mike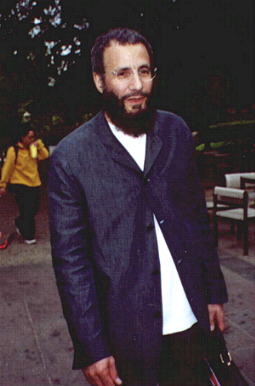 Yusuf met with us Cat fans outside the lecture hall. He was so friendly. Apparently he wanted to meet his old fans, so he arranged for the meeting before the lecture. I certainly didn't expect to shake hands with him, let alone have him talk to me! It was one of several pleasant surprises.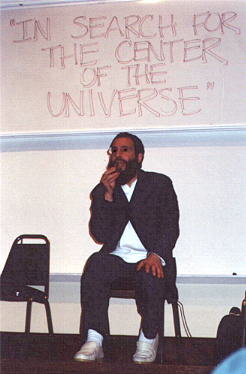 Yusuf is answering my question about extra terrestials on stage. That one must have been a real beard scratcher. <g> Notice the white shoes he's wearing. Quite a few people commented about them. He's still a snazzy dresser, I guess. Of course, muslims generally wear loose clothing to make it easier to perform salaat, the ritual prayers.