Midwest Cat Stevens Fest

Hocking Hills State Park, Ohio

July 28, 2001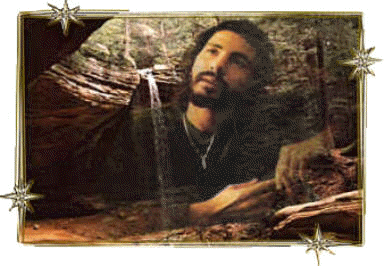 " He was the guardian of days
We held the same
Beneath the shade he gave
Shelter from the rain "

A gathering of friends
The people who attended this Midwest Cat fest came from 4 different sections of Ohio as well as Indiana, Illinois, Pennsylvania and Missouri. It was more a gathering of friends than a festival. One tends to think of a lot of high energy and games at a festival, there was none at this festival, this was more of relaxed atmosphere of people just getting to know one another. Some of the fans stayed at a place called Crockettes Run. It was a very beautiful cabin resort located right outside of Hocking Hills State Park. While others of us roughed it by camping inside of the park at a place called Top O' The Cave campground. The only regret I have is, that we were situtated in 2 different locations. But it still worked out quite comfortable for all involved.
Most of the entourage arrived on Friday evening. I was one of the campers and arrived around 6:00 pm. I happened to be the first at the campsite, but while I was setting my tent up, PK arrived with her troop. Instead of going to the cabin, we opted to make a fire, relax, cook a dinner and wait for Sue and Tom Vukson to make there entrance from Pittsburgh Pa. PK and I have been chatting on line for nearly 3 or 4 yrs now, so it was nice finally meeting her face to face. After we ate, we sat around the fire waiting for Sue and Tom to arrive. When Sue and Tom arrived around 10:00 we all sat talking for quite a while around the campfire since it was such a beautiful night, even Valerie stayed up late into the night, as we talked about Cats music and what we liked about it. Valerie chimed in to say her grandmother can't believe she enjoys listening to an OLD MAN!! Old man we piped in?? Who was she talking about, certainly not our CAT?
On Saturday we tried to gather the masses at a beautiful location called Cedar Falls. It took a little while to get everyone together, but we finally gathered everyone together. While waiting for the cabin crew to arrive, we found Bitterblue 76 aka Becky waiting for us in the picnic area. We ventured down into the small gorge to check out the waterfall and rock formation, the children enjoyed themselves as they played in the small pond at the bottoms of the falls. Lucy wanted to try to search for the largest tree in Ohio, which is located somewhere within the Cedar Falls Gorge. But part of the trail that lead further into the gorge was blocked off due to the reconstruction which the state is undertaking due to the heavy floods of 1998, which destroyed many of the parks trail ways. We did try to see if we could locate it from the area that was not roped off. After our adventure in Cedar Falls, everyone wanted to return to the cabin to congregate in a more private atmosphere.
At the cabin, we talked about Cat/Yusuf's music and ourselves as Gypsy, Pk and Aisha entertained us with their covers of Cat music. The sang and played many songs for us, mostly from the Mona Bone Jakon, Tea For The Tillerman, and Teaser and the Firecat LP's. I was particularly impressed with their version of 'Popstar' GREAT JOB Girls!! I only wish I had a video camera of them singing it. Yusuf would have been quite impressed. Mostly we sat around, in and outside the cabin talking, talking about Cat, how we became involved with his music and getting to know one another. We had some good laughs as one of us, I won't name names, was startled by a baby rabbit on a search for wild yarrow, or let Nick take us through a bed of thorns and what could have been poison ivy, instead of taken the straight and narrow path behind the woods back from the hidden cave behind the cabin. But why would we choose the easy route, after all we are Cat fans!
It was now time to bring out the cake, as Aisha, Mary, Thamer and Jamileh had to be heading back to Columbus soon. There were two small contest, Jancat was the creator of a baby contest, where everyone submitted there baby picture which we were to try to figure out who was whom. Sue V was able to pick all the pictures accurately and won the contest. There was also a t-shirt design contest. All the t-shirts were quite beautiful and well thought out and everyone quite different from each other. Jancat was the winner of this contest with her drawing of Cat as the tillerman. All in all it was a very laid back weekend, with people getting to know one another, as we ate pizza, strolled through the woods behind the cabins, relaxed at the pond, or just sat in the cabin talking. When the day was over PK, Sue's family and myself ventured back to our campground, where we built a nice campfire toasted marshmallows and hotdogs and sat late into the night talking about Cat and his music. It was nice finally getting to meet other Cat fans and knowing we are not the last of a dying breed.
Sunday, we did not meet up with the others in the cabin but rather, made breakfast and enjoyed the small amount of time we had left in the campground... Sadly Sue and Tom had to head out around noon, but PK, Pk's husband Wayne, and friend Cathy, myself and my sister Susie all headed over to Ash Cave and Old Mans Cave, before they headed back to Philadelphia. Though small in comparision to some other festivals i.e Rust fest or Van Morrison fests, it still was a quite nice enjoyable way to meet other fans, and hopefully we will continue to have Cat meetings like this and even bigger in the future.
Group Pictures

At a dry Cedar Falls

(Becky's photograph)
Anne( brennan), Lucy's daughter Jessie, Lucy (nur100minus87), Becky (bitterblue76), Mary (Aun2), Aun1's daughter Jamileh, Aisha ( Aun1), Christine (trezzie), Jancat, Debbie's daughter Marielle, Debbie ( Gypsy4ru), Linda ( Garden)

" Getting hung up all day on smiles
Walking down portobello road for miles
greeting strangers in indian boots,
yellow ties and old brown suits
growing old is my only danger"
At Cedar Falls picnic area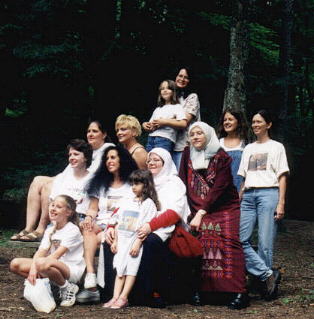 "Well I rode a while, for a mile or so
Down the road to the eighteenth avenue
And the people I saw were the people I know
And they all came down to take a view "

(Becky's photograph)
Back at Crocketts Run Cabin
(Becky's photograph)

" We're getting older as time goes by
A little older with everyday
We were the children of yesterday "
On the Deck: Thamer, Mary, Aisha, Brennan, Gypsy, Jancat, Sue Vukson, Garden, Tom Vukson, Trezzie, P.K., Lucy, Bitterblue76.
Children: Jamileh, Jessie, (Sue & Tom's daughter) Natalie, Marielle, (Sue and Tom's daughter and son) Valerie & T.J.
Cat Trio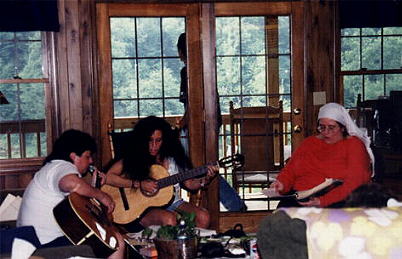 P.K. Gypsy, and Aisha entertaining the rest of us with their renditions of Cat songs. They were exceptionally good on "Popstar", Cat would have been proud. And listening to them sing Father and Son, Aisha sang the lead, with P.K. and Gypsy singing the back ground verses of the the father and son. It made for a really enjoyable afternoon.
Friendships formed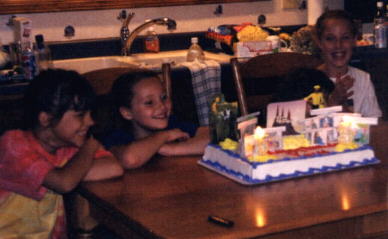 Valerie, Jessie and Marielle singing Happy Birthday to Yusuf.

This is the prize winning picture from my lot of pictures:

"Bring tea for the Tillerman
Steak for the sun
Wine for the women who made the rain come
Seagulls sing your hearts away
'Cause while the sinners sin, the children play "

Christine, Jancat, Lucy & Becky at Ceadar Falls
"Stay close to your friends up until the end
And when they know that you feel the same way
Rise up and be free and die happily
And in this way you will awake "
Jamileh wading in the water at Cedar Falls
"Home where the days are long
Back where the people are free,
Home where all sides agree and,
Everybody has a friend, oh "
Val, Sue and Anne

"but everybody needs a friend

sometimes you need a little help
and who knows maybe one day you'll seek mine
only time will tell "
Sue,Val with Becky and Lucy in the background

"Don't you feel the day is coming
that will stay and remain
when your children see the answers
that you saw the same"




(Photograph by Linda aka Garden )

Garden in her rented mustang with Jancats prized Cat Poster

"Sun is the reason
And the world it will bloom
Cause sun lights the sky
And the sun lights the moon"

(Photograph by Linda aka Garden)

Nick, Gypsy's husband and famed Cat fest photographer at cedar falls.

"Yes, I'm like him, just like you, I can't tell you what to do.
Like everybody else I'm searching thru what I've heard"

(Photograph from Linda aka Garden )

Aisha, Mary and Jamileh at the Cedar Falls picnic area.

" you know i'd give so much to see you now
i'd go anywhere
pick a little stick and walk with you
talk about the scheme of things
on a short walk with you "


Cathy -PK's friend and Wayne with Christine at Ash Cave
"well, I walked and walked and never talked for many days
and without a friend the desert is a lonely place
I was just about to turn around and make way home
when something told me that i had to see it again"

Cathy, PK and Wayne
"Back to the time when the earth was green
And there was no high walls and the sea was clean
Don't stop that sun to shine, it's not yours or mine...no. "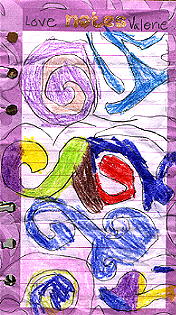 This is a special drawing presented to me by Valerie
"Everybody's got to know
Love's the reason we're here
No matter which way you go
Love's gonna meet you there "
( The background picture is from the woods in the Old Mans Cave area of Hocking Hills)