Four fans adventure at Porchester
PORCHESTER HALL
Porchester Road,
Bayswater, London, England
March 1, 2007
THE CONCERT SET


Photo by Joanne
Concert Program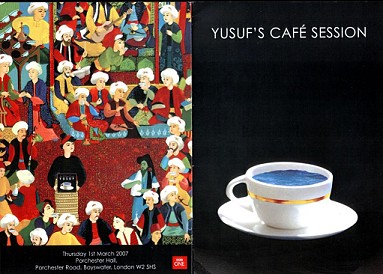 Outside Cover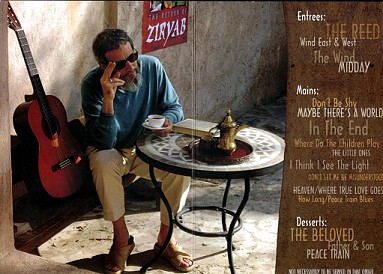 Inside Brochure
(scans of the program courtesy of SuzieQ)
What A Night!
An absolutely perfect evening. Not only free tickets, which I'm sure we would have all been willing to pay for, but the best seats in the house, at the front in the centre
I'd said to Joanne earlier in the day I hope he plays Wind East and West and The Beloved, my absolute favourite at the moment. I couldn't believe it when his opening song was in fact Wind East and West. Here's a complete listing :
Wind East and West
The Wind
Midday
Don't Be Shy
Maybe There's a World
In the End
Where Do the Children Play - twice
The Little Ones
I Think I See The Light
Don't Let Me Be Misunderstood
Heaven/Where True Love Goes
How Long/ Peace Train Blues
The Beloved - twice
Father & Son - twice
Peace Train
Wild World - Zulu
An absolutely amazing performance, with only a very brief break near the end because of problems with the lighting. This meant we heard 3 of the songs twice as he repeated them, I'm delighted that The Beloved was one of them, the live performance was fantastic. The whole performance was fantastic, and Yusuf looked like he was enjoying himself as much as we were and was in good humour throughout. During Father & Son as the lights went off he sang "its hard when the lights go out" or something to that effect, but still continued to the end of the song
To meet Yusuf & his wife after just made a perfect evening even better, if that's possible. Fauzia (hope I've spelt that right) is a lovely lady and Yusuf a very warm genuine person, we had photos and autographs. What more could we have asked for.
CRISTALINA
On the way to the Porchester Hall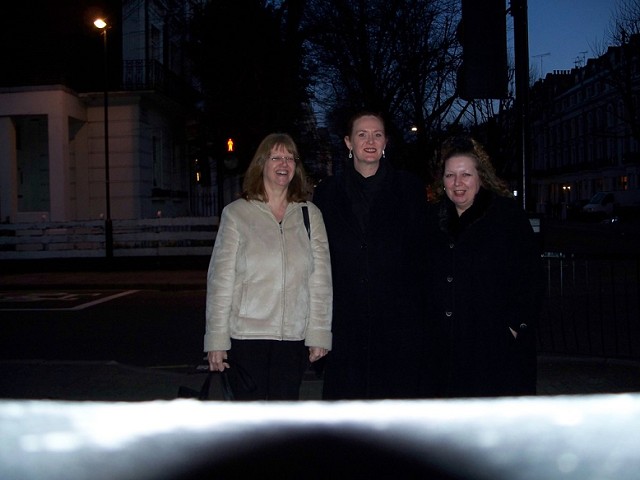 Cristalina, HardheadedSofthrtd, SuzieQ
Once in the hall, we were seated one table behind the front, bang in middle, so we had the best of views, as Joanne and I reached our table, Jon and his daughter Rachael, were talking with Alun Davis! Then Joanne was introduced to him, he was told that she had just flown in from Boston for the show, and they were shaking hands and then Alun turned to me, "I'm afraid I have only come from Leicester" I said laughing, and Alun said "Well I can still shake your hand can't I! And he was laughing too.
Shortly after that, Joanne and I had pictures taken with Alun!!!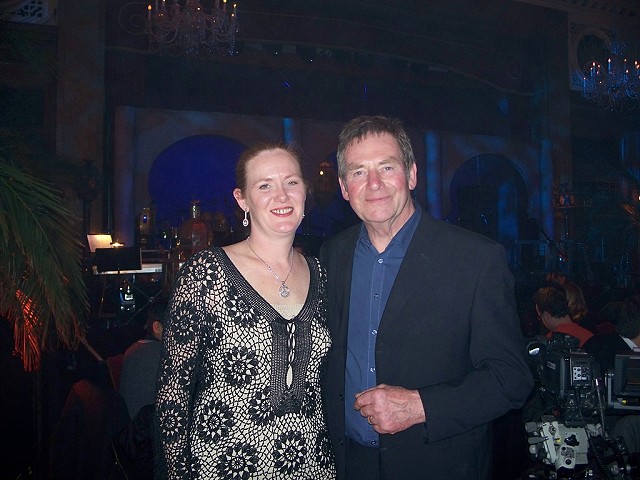 Joanne and Alun Davies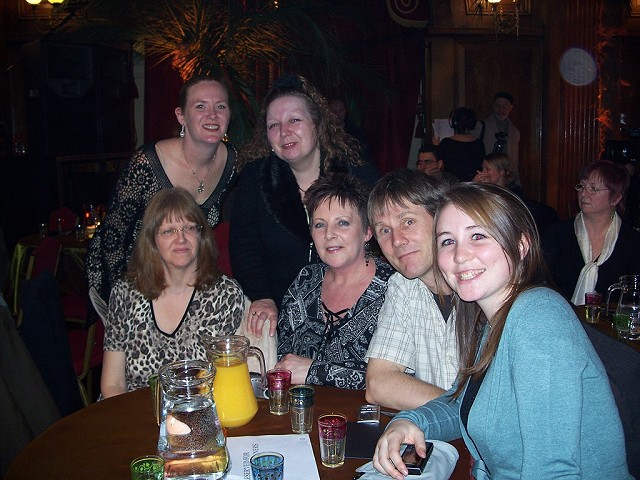 SuzieQ, HardheadedSofthrtd, Cristalina, Marier, Jon Gregson and his daughter Rachel

I took a few photo shots of Yusuf, but in the interval/ between takes, I was told off for using my camera.
Here are some of what you have all been waiting for.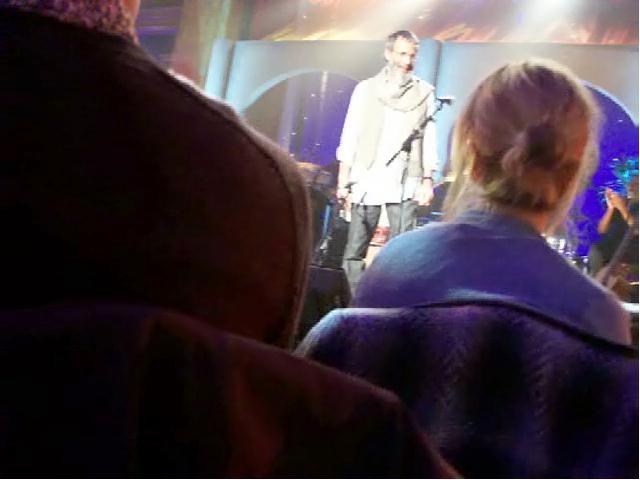 Yusufs entrance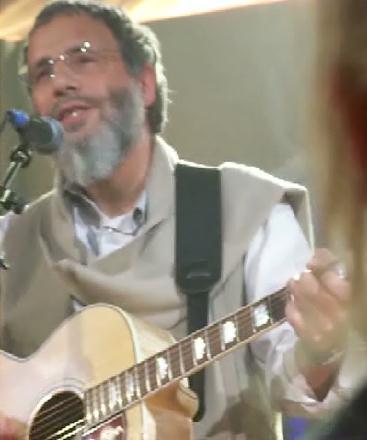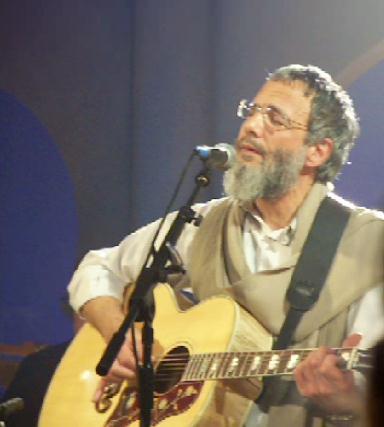 After the concert, I overheard someone ask if they could go back to see Yusuf, and he was told that the guy in the white shirt was the one to see.
Well it's not like me to be so pushy but,….. I almost broke the land speed record and ran across the hall to speak to THE Guy, I said to him that we were from the Majicat website and wondered if we could possibly see Yusuf, he said "I will have to ask as he has a dressing room full of family" and off he went, so I rounded up as many of us that I could as most people had now left, and we waited, Then the Guy (sorry don't know his name) came back with a big thumbs up Yeahhhhhhhh!
I tell you the night just kept getting better and better!
I was first in the door, being pushy again!!! And saw Yusuf hugging someone, I waited a while, then I caught his eye and said (while shaking his hand!!!!!!!!!)
Hello I'm Sue (SuzieQ) Yusuf said "Oh yes, SuzieQ Five Stars"!!! Ohhh he knows of me!!!!!! so then I asked Yusuf, "So does that mean you look in on us?" Yusuf answered, "When I have looked through the BBC stuff and read all of my emails, I think umm, I wonder what they are talking about today"!!!
Then I shook hands with Fauzia and said a big thank you to her.
The other girls introduced themselves using their web names, he recognized us all!!! at this stage I was all quite overwhelmed as you can imagine, there HE was, right in front of me!!! We spoke about his Granddaughter, Ariana (I do hope I spelt it right) He was explaining where the name came from, and there she was, Ariana, in her mothers arms just at the side of us, the most beautiful little girl, with lovely black hair. Then Marier asked if it was possible to have a picture of us all together, after asking Fauzia and Muhammad, Yusuf said yes, it was ok, so I went to take a picture, Yusuf said to me, "Oh, you must be in the picture too" so I turned around and asked a nice gentleman if he would take the picture for me. Yusuf said, "He is the right man to take the picture, That's Peter Sanders, He is the photographer that took the picture for the album, (this is the same one that is and on the 'Menu' for this nights event). He also mentioned that he had taken pictures of someone else very famous, but for the life of me I can't recall who at the moment, Yusuf also mentioned that this picture was taken in Dubai.
(The picture of Yusuf, sitting at a table, drinking coffee, with the poster behind him and his guitar at his side.)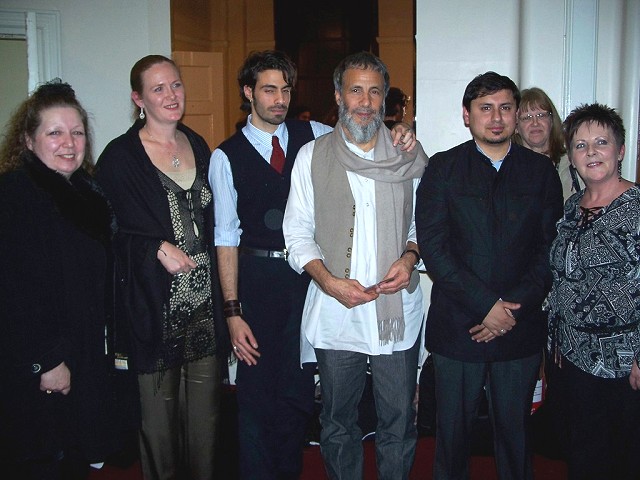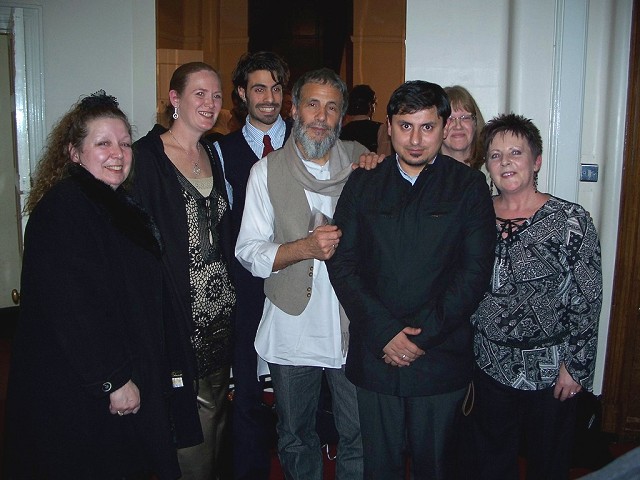 From left to right
SuzieQ, HardheadedSofthrtd Joanne, Muhammad, Yusuf, Majid (Yusuf's son-in-law), Cristalina an Marier

Photos and editorial by SuzieQ (5 Stars)

Mariers' editorial and photographs:
Well what a night! Yusuf was just outstanding. He seemed very comfortable on stage and was like he had never been away. The stage setting was great, very eastern and the atmosphere was very relaxed. Most of the songs Yusuf sang were from An Other Cup, but he also sang Father & Son and a new version of Wild World (with zulo incorporated). Because of problem with the lighting he had to repeat Where do the Children Play, The Beloved and Father & Son, which we were all delighted about of course. Yusuf "live" is even better than his album, if that's at all possible!
Well now for the best bit.......... all four of us met Yusuf and his family afterwards. A big big thank you to Sue who persuaded a nice man to ask Yusuf if we could meet with him. We were taken into a sort of hospitality room where Yusuf, his wife, children and friends were and we spoke to him and his wife for about 10/15 minutes. What a lovely lovely man with a lovely lovely family. We had photos taken with Yusuf (to be posted here soon). This was the icing on the cake at the end of a night I won't ever forget

The Set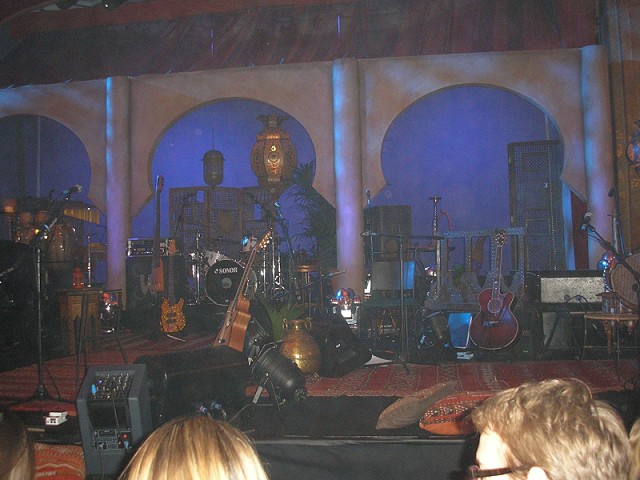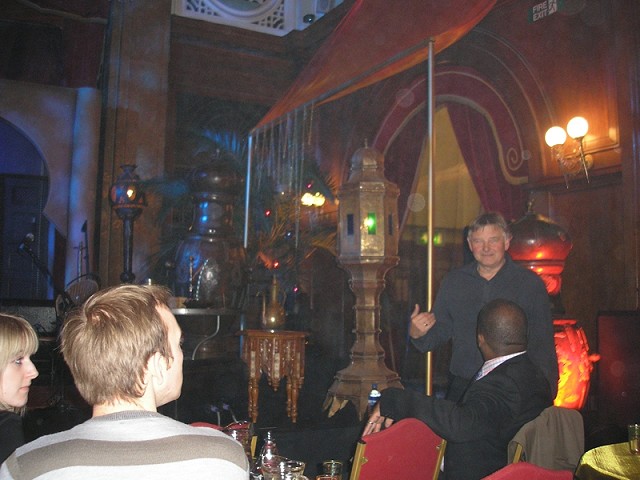 Table Group Photo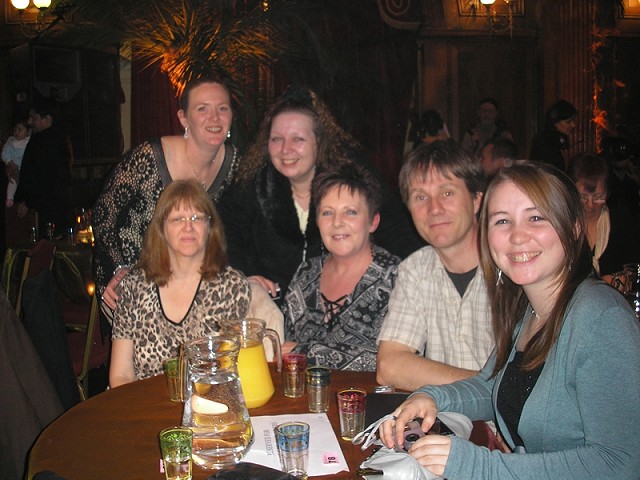 Group Photographs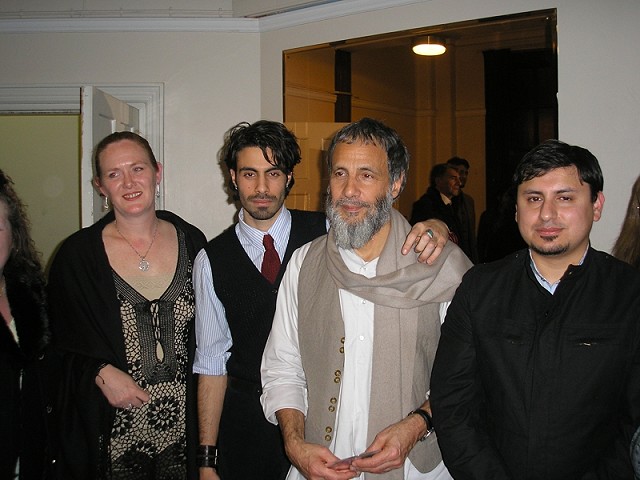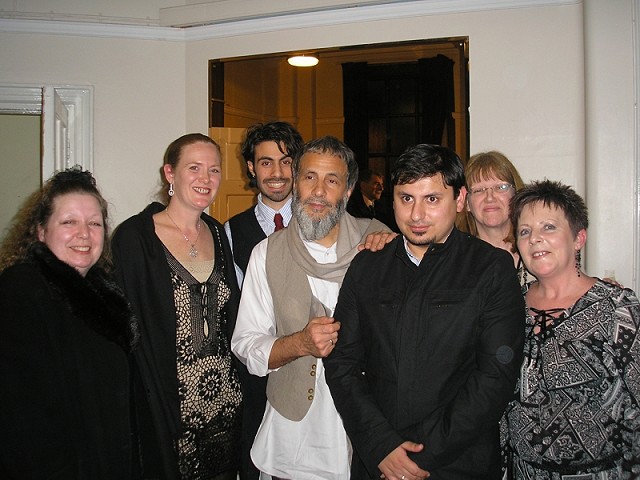 Joannes Editorial (edited version) to read her full story..... go here
I was awakened an hour later by the telephone – it was Sue calling to let me know she'd arrived and was at the same hotel! Wheehoo! She dropped in an hour later and we had a great chat. Doreen (Cristalina) arrived an hour or so later, and we all had a lovely visit.
We made our way to the hall, planning to arrive an hour before the doors were scheduled to open so that we might grab a quick dinner at a little tapas restaurant just across the street. However, upon arrival, we observed that there were already a few folks queuing up in the entryway. Still not realizing our seats were reserved, we opted to get in line and skip the food. We decided to locate the artists' entrance, thinking we might try to get a post-show autograph. Sue and I went outside, leaving Doreen to hold our place in the queue. As we rounded the corner, a woman I'd seen outside earlier in the day asked, "Have you really come all the way from Boston just for this?"
"Yes," I replied. "And I fly back tomorrow."
"Well, come here. I've got a bit of a treat for you," she said. She introduced herself as Janet and she proceeded to escort Sue and me into one of the BBC production trucks, saying that they were just about to start up rehearsals and that she thought we might enjoy getting a sneak preview of Yusuf on the monitors. Neat-o! Alas, Yusuf did not appear on the screens. Rather, a stand-in was used. So there we were, Sue and myself, watching a quite handsome young man (if you're reading this, You know who you are! ) standing behind the main mic and holding a guitar while Janet directed various cameramen, lighting techs, et al, in preparation for the night's event. Sue asked whether it would be alright if she took some photos, and they had no objection. She even managed to take a bit of video. After a bit, Sue popped back to the queue intending to send Doreen out to take her place in the truck, but unfortunately just then additional personnel began to arrive and we needed to leave to make room for them.
John and his lovely daughter Rachel joined us in line, and Marie followed soon thereafter. Six of us, all from the site – perfect!
Soon enough, the velvet rope was unhooked from the stanchion and we were checked in two by two. Once we were issued our table numbers, we were directed to a small bar area where we were able to buy a drink. (There may not have been alcohol during the actual performance, but it wasn't entirely absent. I truly think one main reasons for the "no alcohol during show time" rule was to minimize foot traffic during filming. But I digress…)
Once we had finished our beverages, it was time to take our seats. I made a quick trip to the ladies' room and took a moment to speak with Yusuf's brother, David, before heading back to the bar area. As I made my way up the stairs, someone introduced me to Alan Yentob (from the "Imagine" documentary), telling him about my journey. Seems my little tale had made the rounds a bit. LOL We briefly saw Muhammad in the entryway to the performance space, and, once inside, were pretty much flabbergasted by our table's proximity to the stage! Really, it couldn't have been any more perfect!
I thoroughly enjoyed seeing how the set had developed from the nascent stage I'd seen it in earlier in the day. John introduced me to Alun Davies, who was mingling among the guests prior to the show, and, as Sue has already mentioned, we each took the other's photo with him. He's a lovely, lovely chap, quite friendly and open.
Well, we settled into our seats and things got underway shortly. A PA made a couple of announcements, including one asking us to remain seated during the performance (hence my opinion on the beverage service situation) and another letting us know we would be permitted to take photos prior to the performance but not during. Another woman appeared a little while later to introduce Yusuf…and this is where I am at a loss for words, quite frankly. My immediate impression was: Wow! He looks great! So relaxed, at ease, great outfit, the colors really suit him, etc. Then I thought, "I'm really here! We're all really here!" LOL
And then he began to sing…what can I say? Sublime! The set list, which Doreen has already kindly posted, included so many wonderful pieces! A real pleasure, for me, was to again hear "Wind East West", this time with additional instrumentation. The rendition back at the Royal Albert Hall in '03 was beautiful, as was this newer one. I can't say as I have a preference for either; they are both gorgeous in their own right.
And to hear "Don't Be Shy"! Pure bliss! "I Think I See the Light", "Heaven/Where True Love Goes", and "The Beloved", all from the new album, were, quite simply put, magnificent. Joyous, joyous music, meant for sharing live. Rollicking is the word that springs to mind. "How Long/Peace Train Blues" was a special treat – a truly unique take on a song which he's now re-worked into several variations over the course of his career.
I can't tell you how often I felt tears trickling down my cheeks as wave upon wave of a variety of emotions coursed through me, the dominant one being joy. Pure and simple joy to be experiencing such beauty as this music, this happy noise, this connection of ideas and philosophies that we are indeed all one, all essentially the same even with, or perhaps in spite of, what we think of as our cultural differences.
When the lights went a bit wonky and only the band was properly lit, I must confess I found it quite appealing. It seemed to me that this was how someone would have seen him "back in the day", before the more elaborate productions later in his career. And having never had the opportunity to attend a show back then, I got a kick out of visualizing that.
Once the show had ended, I was extraordinarily pleased that my friend who had arranged my tickets managed to locate me and say hello at last, having never met before. I do hope I thoroughly expressed my immense gratitude; I felt truly blessed to be there. My friend told me that when he'd told Yusuf that I'd be coming to the show, Yusuf said he was "so happy" to know I'd be there. LOL! Not half as happy as I, I thought! Haha! Really, I was a bit flummoxed when he told me that, yet really pleased.
I will say it was lovely to meet everyone and that, while we posed for our photos, I whispered to Muhammad that I was enjoying his new album. When Yusuf asked what I thought of the set design, due to my long friendship with Jon (a production manager here in Boston), I was put right at ease, feeling somewhat conversant on the subject. I told him I liked it very much, pointing out the "cupolas" when I think in fact the word I'd wanted was "arches". (I still think there is a more specific term I wanted to use, but for the life of me I can't think of it!) No wonder a blank look crossed his face. "Coversant" my zzz! LOL He said thought was being given to doing similar, small "café-style" shows such as the one we'd just enjoyed, perhaps with a question and answer session included and wanted to know my thoughts on that. Well! Haha! I remained calm (I think!) and told him I thought it a wonderful concept, remarking that the set certainly looked as though it were built for travel.
Oh, and as we left the backstage area, I remembered to say, "Vivian says 'Hello!'" which got a lovely smile from Yusuf.
Marie had to make her way home, but Doreen, Sue and I went round to the Porchester for a quick drink. A man and woman sitting on a bench waved me over. I approached and said, "Do I know you?" LOL The man said, "We were just at the same concert and backstage." I was slightly embarrassed, but I'd honestly not noticed them. We all three joined them for a drink and it turned out his name is Martin (Hayes?) and he's working with Yusuf on the Moonshadow musical production. If I recall correctly, he said he's Yusuf's musical director. We had a great chat with him and his wife, Holly. Lovely people. At one point, Martin asked how I'd gotten "into" Yusuf's music and what was it about it I liked so much. I gave him the brief version of how I rediscovered Yusuf a few years ago, and attempted to explain just why I continue to find the complete body of work so immensely appealing. The best I could seem to do was to say I found it to be incredibly genuine, heartfelt, and real. The intimacy of the recordings, being able to hear an intake of breath, lips parting to form the next word, etc. I said I like that the humanity is "there", the music is, simply, "present". I think he understood what I was getting at, at least I hope so.